Bespoke Pink and Blue Sapphire Bridal Earrings
Beautiful handcrafted pink and blue sapphire cluster stud earrings for brides and weddings.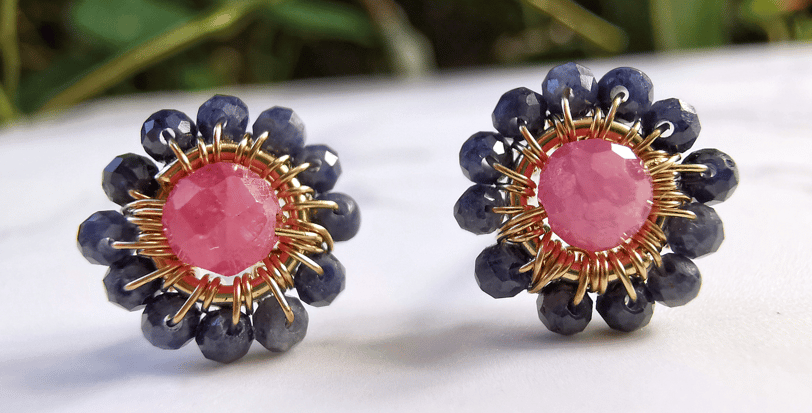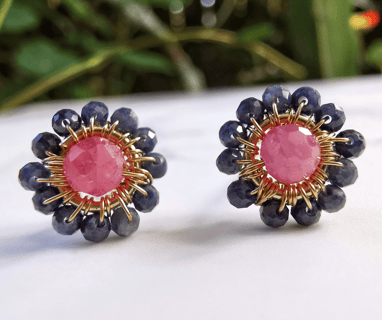 Are you looking to add a touch of elegance and charm to your wedding day? Look no further than these exquisite gemstone flower earrings. Handcrafted with meticulous attention to detail, these earrings are truly one-of-a-kind.
The petals are 2.5mm blue sapphire gemstones, while the center stone is a 4mm pink sapphire, creating a focal point that will surely catch everyone's eye. The earrings are expertly held together by luxurious 14k gold-filled wire, giving them a touch of opulence and ensuring their durability.
For these earrings, we use only precious natural gemstone beads imported from overseas, which may have natural inclusions as part of their unique charm and character. These beauty marks define the origin of each stone and provide insight into its genesis during formation. Additionally, we take pride in our attention to detail and commitment to quality, ensuring that each piece of jewelry is a work of art.
These gemstone flower earrings are the perfect bespoke accessory to complete your wedding day look and make you feel truly special. Each pair comes in its own stunning Cloisonne jewelry box for safekeeping.
After the wedding, they make a beautiful addition to any jewelry collection, adding a touch of elegance and sophistication to any outfit.
Browse these earrings HERE in our infiniteLi Etsy shop.